Feel closer to the action with Wintec Webbers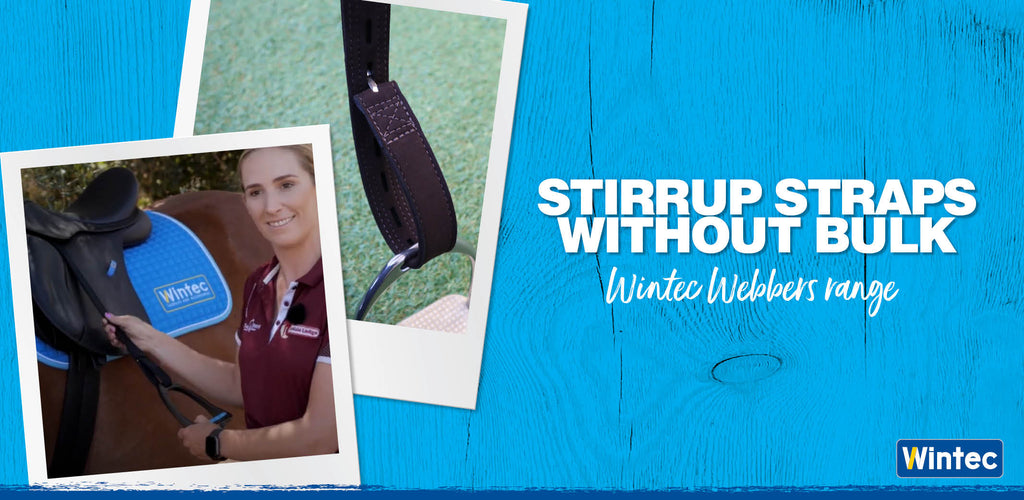 What are Wintec Webbers?
Wintec Webbers are a revolutionary stirrup strap made without buckles to reduce the lump under your thigh and provide closer contact to your horse. They feature a webbing core and hard-wearing materials for durability. Whether you are a dressage rider looking for a close contact feel or a pony clubber wanting something that is quick and easy to change, Wintec Webbers are the perfect alternative to traditional stirrup leathers. 
Why should I use Wintec Webbers?
Are you sick of feeling a lump under your thigh or wish you didn't have to struggle to pull your stirrup leather down every time you need to adjust it? Look no further than Wintec Webbers! Affordable, durable and easy-care, Wintec Webbers are the mount of choice for horse-lovers all over the world. Available in three different sizes and multiple models to try, there's a type of Wintec Webbers for everyone! Don't just take our word for it! Listen to the review of Wintec Pro II Webbers from independent saddle fitter Liz Moore below.
What is the difference between the types of Webbers?
Choosing what Webber is right for you can seem difficult, we have included below some key information about the differences between our Wintec Webbers models.
Wintec Webbers are perfect if you want the leather-look without the wear-in time. Covered in soft Equi-Leather with a webbing core for strength, you'll ride away in comfort and style with Wintec Webbers. 
Wintec Pro Webbers are covered in our soft and grippy Equi-Suede which is wonderful for riders who like a luxury finish with minimal maintenance. The perfect complement for Wintec saddles that feature Equi-Suede, Wintec Pro Webbers provide amazing grip, stability, and comfort.
If you have a small child that is just learning to ride, the durable, safe and easy-care Wintec Kids Webbers are the perfect length for your budding equestrian and pair perfectly with the Wintec Kids. Give your child the best start with Wintec Kids Webbers. 
What size Webbers should I use?
Excited to try a pair of Wintec Webbers but not sure what size would suit? To ensure you purchase the right length, we recommend talking to your local saddle specialist who can assist you.
As a comparison to Wintec stirrup straps, we have provided you with some information below to use as a rough guide to help you decide which size is right for you:
Size 0/60 cm (shortest hole 38 cm to longest hole 53 cm). This size is most similar to 122 cm stirrup straps.
Size 1/70 cm (shortest hole 48 cm to longest hole 63 cm). This size is most similar to 140 cm stirrup straps.
Size 2/80 cm (shortest hole 58 cm to longest hole 74 cm) This size is most similar to 160 cm stirrup straps.
Not sure what size your current stirrup leathers are?
You can perform the standard 'underarm' test or measure your current stirrup leathers to give you a rough idea about which size will suit you. If you would like to measure your current stirrup straps, follow the steps below:
Make sure your stirrup leathers are set to the correct length for you.
Measure from the top of the bar (where the buckle touches the stirrup bar) to the bottom of your stirrup leather (where the top of your stirrup iron sits).
How to use Wintec Webbers
Have you recently purchased a pair of Wintec Webbers and are excited to put them to use? Follow our easy step-by-step guide to fitting and using your Wintec Webbers:
Putting your irons on your Webbers
Before you can attach your Wintec Webbers to your saddle, you first need to place your stirrup irons on.
Remove the Webber sleeve and thread the loop on top of the Webber (the end without the metal T-shaped buckle) through the eye of your stirrup iron. 
Hook the T-shaped buckle into a hole and twist, making sure the Webber lies flat and the T-shaped buckle is secure. You may need to try a few different lengths until you find the length that feels right for you.
Once you have the correct length and the T-shaped buckle is secured, slide the sleeve back into place. It is important to pull the sleeve back down so that your saddle flap is protected from the metal T-shaped buckle.
Fitting your Webbers onto your saddle.
Simply slide the loop on top of your Webbers onto the stirrup bar. 
We recommend checking that your Wintec Webbers buckle below your saddle flap to avoid wear.
If you need to adjust your Wintec Webbers simply slide up the sleeve and move to the T-shaped buckle as required, making sure to re-cover the T-shaped buckle with the Webber sleeve as mentioned above.
Run-up for Webbers for easy storage.
Once you have finished using your Wintec Webbers or Wintec Pro Webbers you can easily slide your stirrups up for easy storage.
Remove the T-shaped buckle from the slot they have been secured into for riding and insert the buckle in the hole at the very top of the Webber. This is up very high near your stirrup bar and you may need to lift the skirt of your saddle to see it. The run-up hole is not available on the Wintec Kids. 
Run the stirrup iron up the front of the Webber.
Tuck the folded Webber through the stirrup iron.
Pull down the Webber to secure.
Cleaning and Care
Thanks to Wintec Saddles durable and easy-care design, cleaning and maintenance of Wintec Saddles products is quick and hassle-free. See our handy guide.
Safety
For the safety of you and your horse, it is important to regularly check the condition of your saddle and mounts for signs of wear and tear. Any tack involved in an accident or showing signs of excessive wear and tear such as fraying, torn holes or cracking, should be replaced immediately for the safety of both you and your horse.